I have started (due to the dieting and trying to be healthier and less fat) attending an exercise class. Now I know that that is not a big thing to a lot of people or for that matter something to shout about but I'm finding if I write about things, they tend to become more solid and more of a constant in my life.
A specific class is for me a big thing, I don't like being in public, I don't like being seen, I abhor routines and having spent a long time as a child in various classes, it seemed like my idea of hell, but I was told that there was a mystical class you could do, where you'd be dancing, to 90s tunes, in pretty much darkness and this seemed to speak to my soul!
Clubbercize is exactly that, dancing (well, ok workout routines) done to heavy music – unfortunately not that many 90s tunes, a lot of dance though which is always fun – and in semi darkness so no one can see what a mess you look – and WOW did I look a mess!! I think if you're too bothered about what you see, then the hard work is to avoid that, not to focus on the workout.
A friend of mine came along with me and we went along to see what we could do. To be honest I spend so much time dancing round my flat with my wireless headphones that this seemed like I was just in a much larger group of people – and my boyfriend not looking at me like i'm a weirdo.
There was a large group of people in this group (probably about 30) so it was nice to kind of huddle in the back and try to pick things up from there, one of the best things about this class? No Mirrors to see how frigging ugly I looked! It was quite liberating to know that I looked a mess but didn't care.
The "trainer" seems very nice, gay and quite camp so ideal for stuff such as this and he was already starting when we arrived. He seemed very positive and encouraging and threw himself right into it. I suppose doing so many classes a week means he's super fit….I'm not sure I would be able to hack it more frequently, once a week is enough I think. Unfortunately I didn't get any time to warm up so that probably didn't help in the long run – note for future, I need to warm up otherwise my thighs feel like concrete for a couple of days afterwards. but we were thrown right in at the deep end with our new flashing glow sticks. The dance routines were full of punches, squats and jumps, all to such high paced music that I would say I was pretty much on the ball for let's say 70% of the time? I know that a couple of times he gave instructions that I didn't even hear so had to just sort of dance away to myself with the glowsticks – another note, I should probably not be given glow sticks, they are a pretty distraction and meant I wasn't paying enough attention, but as a positive, they are good for helping you make a proper fist whilst punching.
A lot of the routines were high impact so there's a few things that moving forward I'm not sure I should do (jumps and the like can be bad for the ACL replacement) and there were most definitely parts of the evening where I resembled Sanka from Cool Runnings but at least I did it. Hopefully as the weeks go on, it'll be easier and I'll feel more co-ordinated.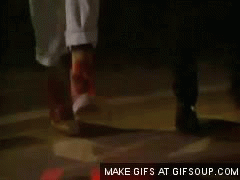 I did actually really enjoy this class, I came out covered in sweat and knackered but as I get thinner/healthier I'm looking forward to having more activity added to my life.
I did need a lay down afterwards though!!
Anyone else out there starting classes such as these? Or have you been to clubbercize? Let me know how you found it and feel free to pass on hints and tips for generally being fitter. I've got a marathon to train for so need to get myself in gear!